In the Topeka Community for over 150 Years.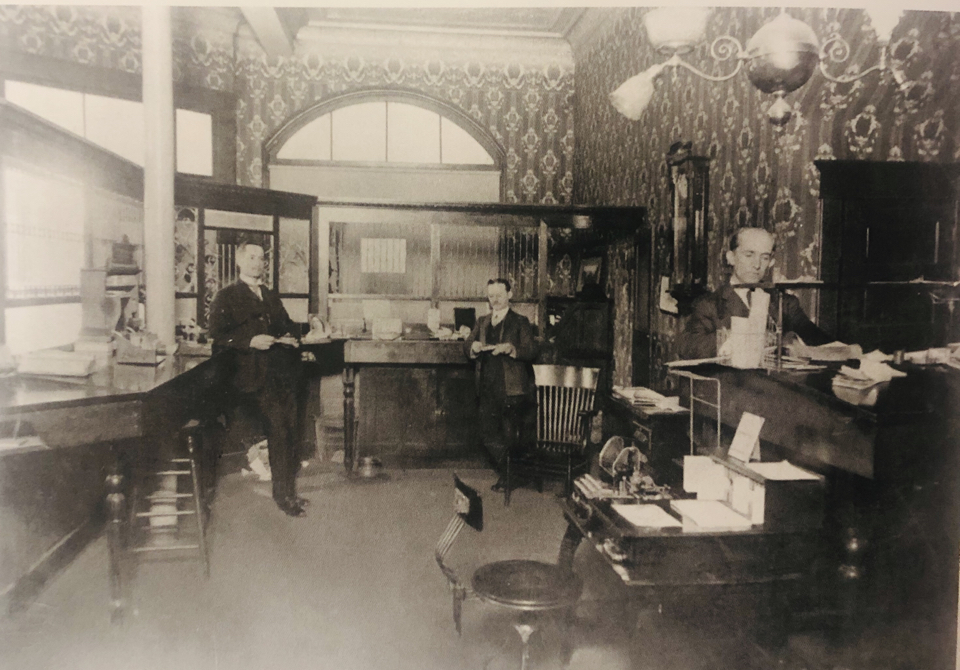 Shawnee State Bank 1902
Our History: 
Kaw Valley Bank has been a part of Topeka for over 150 years, with its roots starting in Oakland and eventually growing in North Topeka and later city wide. The banks original name was Oakland State Bank.  
In the 1920s Glenn Swogger Sr. and his father J.S. Swogger purchased Oakland State Bank where it was a storefront bank with a family living headquarters in the back. The bank eventually grew through the consolidation of Oakland State Bank with Kaw Valley National Bank, Shawnee State Bank and Kaw Valley Citizens State Bank. When Kaw Valley National Bank was purchased in 1933 the new location became 844 North Kansas Ave. (which is now known as Bradley's Corner Cafe), and assumed the name Kaw Valley State Bank. A new bank location was built in 1965 in North Topeka at 1110 North Kansas Ave. This location is known today as the Kaw Valley Bank headquarters.  
Glenn Swogger Sr. remained the chairman and President of Kaw Valley State Bank until his retirement in 1982 at the age of 86. At that time Gerald Lauber, who started his career at the bank in 1972 while attending college and working his way up from Teller to Lending,  was named as the President while Swogger Jr., M.D. was named the Chairman. Dr. Swogger also served as Director of the Will Menninger Center. He was on staff with the Menninger Clinic for 22 years. In January of 2007 Kaw Valley State Bank and Trust formally shortened its name to Kaw Valley Bank. 
In March of 2017 Kaw Valley Bank was purchased by longtime community bankers, Dean Phillips and Phil Burns. They bring extensive community banking experience and have kept the bank as an independent Topeka based bank with local management, and continue to focus on community banking. 
After 46 years at Kaw Valley Bank Gerald Lauber retired in May of 2018 and Craig Heideman, a long time bank employee, was named CEO / President of Kaw Valley Bank. Prior to his appointment as CEO Craig began his career at the bank in 1997 as a Commercial Lender and was named Chief Credit Officer in 2015.
With nearly 90 employees Kaw Valley Bank continues to embrace the Topeka community and is one of the largest employers in North Topeka. Kaw Valley Bank is proud to have generations of families as customers for over 150 years!